RAVAS DECLARES VICTORY AND WINDS DOWN CAMPAIGN
The group of British retailers which led the fight against so called Low Value Consignment Relief for Channel Islands-based mail-order operations, most recently operating under the banner of RAVAS, has announced it is winding down its campaign because it has "accomplished its mission".
As previously reported, under the tax relief system mail-order companies based on Jersey or Guernsey did not have to charge VAT when selling goods that cost under £18 (or £15 of late) to customers on the UK mainland. The loophole gave said mail-order firms - which in the music space included start ups like Play.com and The Hut, and the mail-order divisions of the major UK retailers - a 20% advantage over their mainland competitors, arguably driving many independent retailers who couldn't afford an offshore base out of business.
Said independent retailers campaigned for years to have the loophole closed. Their campaign gained momentum in the last eighteen months, partly because the current UK government was more willing to act than its predecessors, but also because RAVAS successfully filed a complaint with the European Commission that argued the tax loophole breached European tax laws which said relief systems - put in place for administrative convenience - shouldn't distort the market.
As previously reported, the UK government announced last week that it would end LVCR for the Channel Islands next April, meaning mail-order firms based there will have to start charging VAT on purchases. Announcing the completion of the campaign, RAVAS's Richard Allen told CMU: "When we first initiated the [EC] complaint the odds were not exactly stacked in our favour. Many of the people affected had already gone out of business and so we were not a strong voice. We had no money to put into hiring expensive consultants or lawyers, but we argued our case directly with the conviction that we were in the right".
He continued: "After four years of communication with the Commission, the submission of large amounts of factual data on the ongoing LVCR trade and a meeting with officials, the EU finally ruled that this practice was an abuse of the relief and a barrier to trade. We understand that the commission has had lengthy discussions with the UK government to put in place legal measures to prevent the abuse. Whilst it took a long time and huge amount of work, the success of RAVAS is living proof not only that the EU complaints system works, but also that anybody can overcome the odds and overturn an injustice if they have a fundamentally sound case and the persistence to argue it thoroughly".
Earlier this week RAVAS also responded to two issues raised by the fact the changes to LVCR due to take place next April apply only to the Channel Islands, and not other non-EU countries, who also currently benefit from the VAT relief. Some Channel Islanders have argued that this constitutes discrimination against the Channel Islands, adding that they hope to fight the change in the British courts on those grounds. Others, meanwhile, including the UK's Entertainment Retailers Association, have expressed concerns Channel Islands-based VAT-avoiding etailers will now simply relocate to other countries where LVCR applies.
But RAVAS says that, aside from logistical issues hindering any efforts by mail-order firms to base themselves too far from the UK, the government's recent pledge on LVCR was to stop it whenever and wherever the relief system is abused. That only applies to the Channel Islands at the moment, but could result in LVCR being cut elsewhere if abuse was shown to be occurring. This, RAVAS says, also blows a hole in the discrimination argument, because the government's ruling last week applies to any country where there is abuse of a VAT relief system, but that only currently applies to Jersey and Guernsey.
RAVAS told CMU: "People should note the UK Treasury's statement which clarified that 'The government is committed to ending exploitation of LVCR regardless of location. If evidence emerges that diversion to other jurisdictions is taking place on a significant scale, we will consider the case for additional action, including by extending the dis-application of LVCR rules to supplies from those jurisdictions'".
You can read CMU's interview with RAVAS spokesperson Richard Allen, conducted before the government's big announcement but providing a lot of background to this story, here: www.thecmuwebsite.com/article/qa-richard-allen-ravas/
MURRAY TRIAL EXPERT ORDERED TO PAY $250 FOR DISOBEYING JUDGE'S RULES
One of the defence's key witnesses in the Conrad Murray manslaughter trial has been fined $250 for violating a court order during his testimony.
Murray, of course, was found guilty of causing Michael Jackson's death last week, and will be sentenced later this month. His conviction centred on the administration of the surgical anaesthetic propofol in a domestic environment.
The defence claimed that Murray was trying to wean Jackson off the prescription drug, which the singer was using as a cure for insomnia, and that he only gave the late king of pop a tiny dose on the day of his death, and that Jackson must have therefore self-administered the fatal shot.
Dr Paul White was the only expert presented to back up that theory. The propofol expert's testimony, coming at the end of the proceedings, was firey, and included some tough cross-examination from the prosecution. White tried to discuss information Murray had given him during conversations before the trial but, with the doctor having chosen not to testify himself, Judge Michael Pastor banned White from mentioning the content of those chats with the defendant.
At one point White complained, in front of the jury, that there was information he was banned from discussing in court, leading to the witness being admonished by the judge and ordered to attend a separate hearing to consider whether those remarks put him in contempt of court.
That happened this week and both White himself and Murray's defence lawyers insisted that the expert witness - not experienced in giving testimonies in court - didn't realise he was disobeying the judge's rules when he made the remarks about his conversations with the defendant. White said: "I had no idea your honour had told me not to go into this area. I apologise profusely".
But Pastor was adamant that his instructions had been clear on the day White testified, and that ignorance should not therefore be a defence. Meanwhile a rep for the prosecution in the Murray case accused White of purposely trying to sabotage the case.
Nevertheless, the judge decided not to find the expert witness in contempt of court, instead issuing a lesser civil sanction and ordering the doctor to pay a $250 by 16 Dec.
--------------------------------------------------
RESTRAINING ORDER ISSUED AGAINST THREATENING WESTWOOD TEXTER
A Lancashire man has been given a restraining order and twelve month community order after sending threatening text messages to Radio 1 DJ Tim Westwood.
43 year old Mark Bulcock send over 100 messages to Westwood via the Radio 1 text system, including one that told the DJ he was a "dead man" and another which said he was "going to be in a wheelchair". The "dead man" text was accompanied by another insisting this "wasn't code".
Westwood himself never actually saw the texts, but producers who were monitoring the text platform called in the police. Bulcock insisted he never meant to threaten Westwood, adding that he was a fan of the DJ.
But the texter was convicted at Reedley Magistrates Court and was sentenced at the Burnley court this week. He was ordered to complete a twelve month community order, and banned from ever contacting Westwood again for life.
DIDDY HAS SHOULDER SURGERY
Sean 'Diddy Man' Combs received shoulder surgery on Tuesday, he has confirmed via Twitter. The hip hopper reported via a tweet on Wednesday: "Had shoulder surgery yesterday - at home recovering - feels like I've been shot in my arm and I have to wear a sling but I'm OK! God is the greatest!"
It's not clear why Diddy required the surgery in the first place. Meanwhile, it's thought that, despite the operation, the Bad Boy chief will still give a eulogy at the funeral of late rapper Heavy D, who died earlier this month and whose funeral is due to take place later today.
COHEED AND CAMBRIA ANNOUNCE NEW/OLD DRUMMER
Coheed And Cambria have announced that former drummer Josh Eppard has rejoined the band following the departure of Chris Pennie earlier this month. Eppard left the group in 2006 to seek treatment for drug problems, and the band said in a statement that inviting him back was a "giant leap of faith".
They said: "We understand there are risks involved bringing Josh back into the fray. Even with his two years of sobriety, this is a giant leap of faith on our part. But at the end of the day, we have all grown up, and we have all been through so much, that playing with Josh again is sort of like coming home. It's comfortable, it's familiar, it just feels right".
As previously reported, bassist Michael Todd was sacked from the band early this year after he was charged with the armed robbery of a pharmacy.
THE TING TINGS SCRAP BERLIN ALBUM
The Ting Tings have revealed that they have scrapped the album they recorded in Berlin in 2010, which was originally due for release this year. One single from the album, 'Hands', was released via Sony Music last October.
Speaking to The Daily Star, drummer Jules de Martino said that, after they broke the news about the axed album to their label, vocalist Katie White went AWOL for six weeks. White then pointed out that her bandmate was just recycling an old story that was originally told in reference to what supposedly happened when the label wanted to sign them in 2007, adding that he should think up something more original.
Actually, she didn't, but she should have. What she actually said was this: "He thinks I'm weird and he's normal, but I don't see it like that at all. My phone is always off and I'm just not that reachable".
Anyway, what about this bloody album? White explained: "We went to Berlin and really fell in love with techno and dance, which inspired the songs we made there, but [then] we just fell out of love with it. We went to Spain and stumbled on this new sound so we thought: 'Fuck it, let's make the album this way instead'. We're not a big manufactured pop band with a song out every six months. The label might have pulled their faces a bit at the beginning, but they are now so happy we did it".
Fingers crossed they'll keep up this method of recording indefinitely.
--------------------------------------------------
BIFFY CLYRO WORKING ON "OBSCURE" MUSIC
Some of Biffy Clyro's new songs are "really obscure", and they now have enough of them to put together a double album. So brace yourself for that.
Frontman Simon Neil told BBC 6music: "We're working pretty hard. We're now up to about 30 songs so maybe a double album, the dreaded D word. We've got some really obscure things going on. We've got a kind of prog country song, which we never thought we'd do and some weird kind of math rock stuff meets almost goth rock. It's hard to explain just yet but there are moments that are odd".
--------------------------------------------------
FUTURE OF THE LEFT COMPLETE SECOND ALBUM
Future Of The Left completed work on their second album on 13 Nov at 6.23pm. We know this because they were good enough to announce it in a new blog post on their website. So that's fun. The new record contains fifteen songs totalling 49 minutes and "40ish" seconds and will be called 'The Plot Against Common Sense'.
Frontman Andy Falkous added: "Yes. Done. Done'd. Dead. I can't speak for everyone in our (never red - I HATE red) practice room but I'm incredibly proud of this record. It's got everything I ever wanted in, on and through it. I'm also proud that we got here at all after all of the fruity fucking obstacles thrown in our way. We're working through artwork ideas as we speak. Excitement. Relief. Hope. Hats. We're hoping (well, it's pretty damn certain) for a release early next year - more information on this when we have it to give you".
The band actually have a new EP out right now called 'Polymers Are Forever', but if you want more album stuff, here is the tracklist. Two of the songs featured in this list are working titles. I'm not going to tell you which, but it's probably not the ones you think:

Sheena Is A T-Shirt Salesman
Failed Olympic Bid
Beneath The Waves An Ocean
Cosmos Ladder
City Of Exploded Children
Goals In Slow Motion
Camp Cappuccino
Polymers Are Forever
Robocop 4 - Fuck Off Robocop
Sorry Dad, I Was Late For The Riots
I Am The Least Of Your Problems
A Guide To Men
The Mercy Of Crows
Rubber Animals
Notes On Achieving Orbit
ITAL TEK ANNOUNCES NEW EP
Brooklyn-based producer Ital Tek hasn't even released his new EP, 'Gonga' yet and he's already announced another one. Entitled 'Hive Mind', it will be released on Planet Mu (the label to which Ital Tek sign at the end of September) on 13 Feb. 'Gonga', in the meantime, will be out on 5 Dec. You can hear a mini-mix of the tracks on 'Gonga' below, but first let's take a look at the tracklist for 'Hive Mind' in order to ensure this is all more confusing than it needs to be:
Doesn't Matter (If You Love Him)
Floridian Void
Privacy Settings
Israel
First Wave
soundcloud.com/ital-tek/gonga-ep-promo-mix-out-dec-5th
COLDPLAY TO RETURN TO DINGWALLS
Coldplay have announced that they will return to the venue where they played their first gig thirteen years ago, Dingwalls in Camden, to perform a special show for BBC Radio 2. Tickets for the gig, which will take place on 6 Dec, will be given away to Radio 2 listeners form 24-26 Nov. Those unable to attend will be able to listen to the performance when it is broadcast on 15 Dec, or watch it by pressing the red button on their TV's remote control while tuned into the Beeb any day until 22 Dec.
back to top

--------------------------------------------------
FULL RINSE FM ROSTER TO DJ AT BOXING DAY PARTY
Rinse FM is set to present all its resident DJs at a special Boxing Day event on 26 Dec. Skream, Boy Better Know, Zinc, Seb Chew and P Money are amongst those scheduled to appear throughout the evening, which will take place at London's Fabric.

You can find more info here: rinse.fm/2011/10/boxing-day-every-rinse-fm-dj-under-one-roof/
--------------------------------------------------
SUMMER CAMP TOUR
Hardworking dream-pop couplet Summer Camp have just confirmed a series of springtime dates in the name of their PledgeMusic-funded debut album, 'Welcome To Condale'. In lieu of anything free or exclusive to mark the special tour news, here's a GIF of the band's Jeremy Warmsley sliding off a chair.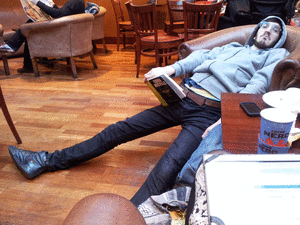 Tour dates:
13 Mar: Bristol, Louisiana
14 Mar: Birmingham, The Rainbow
15 Mar: Norwich, Arts Centre
16 Mar: Man, Night and Day
17 Mar: Glasgow, Captain's Rest
19 Mar: Sheffield, The Harley
20 Mar: Portland, Cambridge
21 Mar: London, Scala
AIR SOUNDTRACK CARTIER CAMPAIGN
Electronic duo Air have composed the soundtrack to a new short film for Cartier, as in the luxury French jewellers. The promo was directed by New York company Waverley films, who have worked on videos for LCD Soundsystem, The Rapture and TV On The Radio.

Says Air's Jean-Benoît Dunckel of the collaboration: "Cartier has strong French culture. It is something we feel very close to. There is a long and genuine history between Cartier and artistic creation, and I thought it was a very good opportunity for us to experiment with different sounding music than what we could have done for another band".

www.youtube.com/watch?v=nEK1C5ERG-s
--------------------------------------------------
LOU REED ANNOUNCES SIGNATURE KLIPSCH HEADPHONES
Having punished ears with his collaboration with Metallica, Lou Reed is attempting to rectify the situation by adding his signature to a new line of Klipsch headphones.
A variation on the company's X10i line, the earbuds will set US audio fans back $400. That's a whole $50 more than the standard version, but the first 50 will come with a sign Reed album, which you can probably sell on eBay for a few quid if you manage to get one.
Says Reed: "I have been a fan of Klipsch for eons. I enjoy the beauty of the unhyped bass - the clarity and depth of detail and extraordinary comfort of the headphones. These are my Klipsch. Serious headphones for the serious listener".
DMCA SAFE HARBOUR PROVISIONS RAISED IN SOPA DEBATE
We reported recently that a legal rep for the Recording Industry Association Of America had said at a conference that the US record label trade body was increasingly concerned with the way the Digital Millennium Copyright Act has been interpreted in the American courts, especially when it comes to the safe harbour clauses that ensure website owners are not liable for copyright infringement when users or automated systems post or link to unlicensed content, providing they takedown infringing content from their servers when made aware of its presence.
The DMCA doesn't go into specifics about how these takedown systems should work, and the RIAA feels the courts are not making enough demands on the website owners with regards the work they should put in to spot copyright infringing content.
Controversial streaming service Grooveshark, which lets users contribute music, defends its actions with the DMCA safe harbour provisions, and it's thought some of the majors worry that might stand up in court, when they believe the streaming service only pays lip service to its takedown obligations. Although it's not currently on the agenda, there's a chance the RIAA could lobby US Congress for legislative clarification on website owners' obligations.
Though it seems the issue is already being discussed in the corridors of power in Washington, albeit because of concerns expressed from the other side of the debate.
Legislators on the House Judiciary Committee were this week discussing the Stop Online Piracy Act, a controversial bit of legislation which, like the on-hold bit of the UK's Digital Economy Act, would make it easier for content owners to get court injunctions ordering ISPs and search engines to block copyright infringing websites (of course, although that bit of the UK's DEA is on hold, following the recent Newzbin case in the British courts a precedent has been set to allow such injunctions anyway).
Like the copyright sections of the DEA, the SOPA legislation is not without its critics, including the big players in the ISP and web sector. Which brings us back to the DMCA. Some, including Google, have expressed concern that SOPA, if passed, could gazump the DMCA's safe harbour clauses, in that if content owners are given too much power to force copyright infringing websites to be blocked, they fear the injunction system may be used against websites which - in a standard copyright infringement action - would have protection under the digital copyright act.
It's unlikely that would happen, though discussions in Congress about SOPA might require some clarification about when the DMCA's safe harbour provisions should apply, and what measures web operators should undertake to earn protection, which would possibly satisfy the RIAA's aforementioned concerns. So well done Google for bringing the matter up!
--------------------------------------------------
BILLBOARD CHANGES CHART RULES ON CHEAPO ALBUMS
Billboard has changed its chart rules so that heavily discounted albums will no longer be counted. The move follows the big Amazon promotion earlier this year where the new Lady Gaga long player was sold to American customers for a mere 99 cents, helping the pop star to exceed a million units in first week on sale. Amazon (busy promoting its digital locker service) took the hit with Team Gaga and her label receiving the usual wholesale price for the digital release.
It ensured the Gaga lots of attention on the week of her album release, though some criticised the cost cutting approach, while others questioned if the discounted sales should qualify in terms of chart position. US chart bosses at Billboard were initially reluctant to comment on Gaga's dealings with Amazon, though have now introduced a new rule - albeit without mentioning the Lady - that seemingly means that in the future heavily discounted album sales will not be counted.
American chart chiefs said this week: "Unit sales for albums priced below $3.49 during their first four weeks of release will not be eligible for inclusion on the Billboard album charts and will not count towards sales data presented by Nielsen SoundScan. The rule also applies to reissued titles".
LADY GAGA WEES IN BINS
More Gaga, and the Lady has revealed that she "often" urinates in bins. That's something you wanted to know, right? That's in the public interest.
According to The Sun, she said: "I quite often pee in my dressing room in the trash can. The bathroom is down the hall and you must get redressed. So I said: 'Fuck it!' Otherwise, I'd be Latey Gaga".
Classic.
--------------------------------------------------
SMASHING PUMPKINS SAY... ER... SOMETHING
I started watching this interview with Billy Corgan and some young people, but I got distracted by Corgan's Biggles costume and the number of pills he takes while one of the young people is talking, so I couldn't tell you what he said. I think it was something about a new album and, er... Jesus would you look at that hat. And what are those? Vitamins?
Anyway, watch for yourself here:
www.youtube.com/watch?v=MKPyn5iKfBs
--------------------------------------------------
BEEF OF THE WEEK: MINCED BIEBER
This photo, which has been circulating online of late, is surely the only real contender for this week's Beef Of The Week crown? Bon Appetit.
www.thecmuwebsite.com/article/cmu-beef-of-the-week-87-minced-bieber/